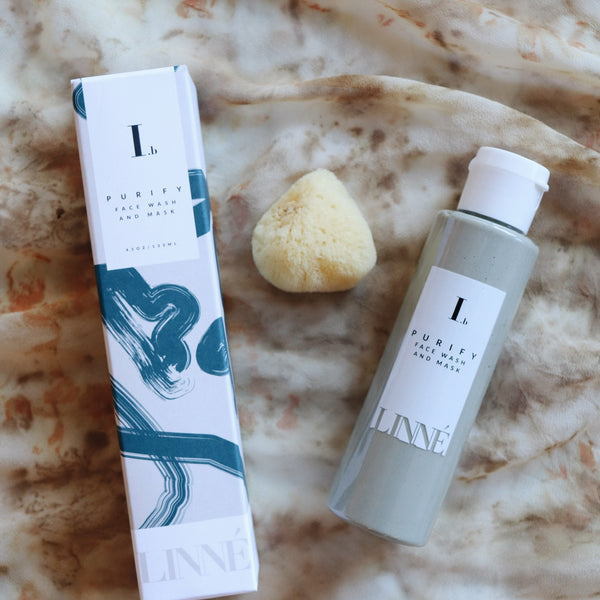 Purify Face Wash
$58.00
4 oz. |  120 ml. 
Massage PURIFY onto dry or damp skin. Use warm water (and sea sponge if desired) to lather and rinse face clean of makeup, dirt and other environmental pollutants. May be used morning and night. PURIFY may also be used as a weekly mask: apply to dry skin and leave for 3-10 minutes before rinsing.  Contains ingredients known to neutralize free radicals, tone sagging skin, increase circulation, suppress bacteria and prevent and treat skin conditions such as psoriasis and acne.  Sea sponge included.
INGREDIENTS: Aloe barbadensis (ALOE) raw juice*, montmorillonite (green CLAY)**, glycerin (from VEGETABLE oils),  kaolinite (white CLAY)**, Maris sal (DEAD SEA SALT)**, Solanum tuberosum (POTATO) starch*, decyl glucoside (from COCONUT)***, sodium lauroyl lactylate (from non-gmo CORN)***, bentonite (CLAY)**, Simmondsia chinensis (JOJOBA) seed oil*, leuconostoc ferment filtrate (from RADISH)***, bentonite (CLAY)**, Olea europaea (OLIVE) leaf powder*, xanthan gum (from SUGAR BEET), Melaleuca alternifolia (TEA TREE) essential oil*, Citrus aurantifolia (LIME) essential oil*, Cupressus sempervirens (CYPRESS) leaf essential oil**, Cymbopogon martinii (PALMAROSA) essential oil**
*Organic     ** Wild-harvested      ***EcoCert
99% Certified Organic or Wild-harvested
- Coco Glucoside: cleanses with an ultra-gentle, soap-free, coconut-derived lathering agent.
- Jojoba Oil: helps to remove make-up and other large molecules.
- French Green Clay and Bentonite: draw impurities from skin and provide vital minerals. Ions present in clays neutralize free radicals such as those emitted by cell phones.
- Dead Sea Salt: mineral rich and known to prevent and treat multiple skin conditions such as psoriasis, acne, hives and rashes.
- Olive Leaf Powder: provides anti-oxidant, anti-inflammatory and antimicrobial activity. Known to accelerate wound healing due to a rich content of secoiridoid oleueduce swelling, redness and psoriasis and prevent sun damage and dehydration.
- Tea Tree Essential oil: serves to protect against bacteria, fungi and viruses while cleansing pores and fortifying the immune system.
- Lime Essential Oil: tones muscles, tissues and skin to retain youthfulness and prevent premature aging. Lime is also an effective aid in the treatment of acne, oily skin and insect bites.
- Cypress Essential Oil: contains astringent, antiseptic, antispasmodic and deodorant constituents that when applied topically improve cellulitis and poor circulation, tones sagging skin and calms ruddiness.

AROMA: Lime, Cypress and Tea Tree: Bright, citrus and green woods. The aroma invigorates the senses and stimulates mental activity, while promoting relaxation and tranquility.